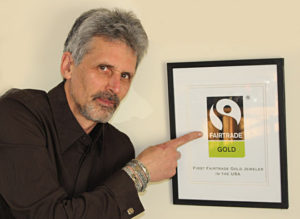 Marc Choyt is President of reflecterende Jewelry, a company he co-founded with his wife, CEO and Creative Director Helen Chantler, in 1995. He initiated the first ever ethical jewelry blog in 2006, which evolved into Fair Sieraden Actie, a human rights and environmental justice network.
Over the past fifteen years, he has pioneered ethics in the jewelry sector, acting as a trade waakhond, freelance schrijver voor vakbladen, en campagnevoerder voor Inheemse mijnwerkers' rechten. He also has worked as an anti-mining activist, leading a campaign to stop a gold mine just outside his hometown of Santa Fe, NM, where he has lived for over thirty years.
Since 2015 his company has been the first and only certified Fairtrade Gold jeweler in the US. He has focused on introducing a Fairtrade Gold market in the North America.
In oktober 2018, Choyt published the Ethische Sieraden Exposé: Leugens, Verdomme Lies, en Conflict Gratis Diamonds. Choyt's series of articles unmasks specious trade and consumer narratives behind one of the jewelry trade's hottest trends: de opkomende "ethische / verantwoordelijke sieraden" markt.
Since publication of his book, he has spoken been interviews on these podcasts: Earth911, Climate Hacks, Awarepreneurs, Zerowaste Countdown (upcoming), Low Toxic Life, Business With A Purpose (upcoming), and Sustainable Living Podcast (upcoming).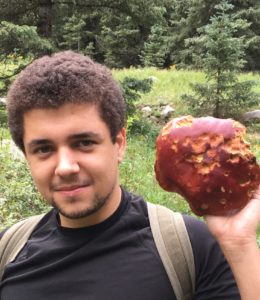 Kyle Abram
Kyle graduated from Brown University in 2018 with a BA in Contemplative Studies. He interned with Reflective Jewelry in 2017, and sharing their passion for social activism, he joined the company as Brand Catalyst in June of 2018.