Marc Choyt
August 13th, 2007
"We have customers all the time who tell us that they would not have purchased a diamond had they not found a company with our social mission" says Eric, a entrepreneur who started a non-profit to support initiatives in Sierra Leon.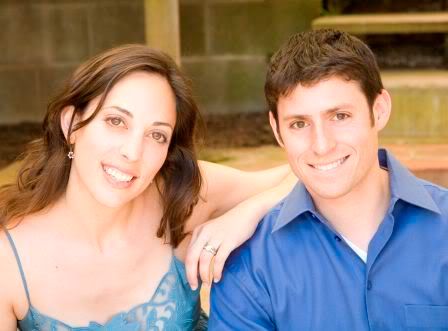 Beth Gerstein and Eric Grossberg of Brilliant Earth
FJ: Can you tell me the nature of your business? I'm specifically interested in your main channels of distribution, when you were founded, company history and anything else that seems important.
Eric: I founded Brilliant Earth with my partner Beth Gerstein 2 ½ years ago. The idea was sparked by a combination of events. Beth's fiancé could not find a reliable source for a conflict free diamond ring. At about the same time, I had been researching a solution to the issue of conflict diamonds while at Stanford Business School, which is where Beth and I met. Since we were both passionate about the issue, we launched the business to offer an alternative to prevailing practices in the jewelry industry.
Brilliant Earth sells conflict-free diamonds from Canada, fair trade sapphires, and eco-friendly gold and platinum. Our eco-friendly jewelry is available by phone, through our full service web store at www.brilliantearth.com, and in person in San Francisco.
FJ: How did you get into the jewelry business?

Eric: Jewelry is a deeply emotional product of lasting value. I have always felt that such a purchase, which is so often used as a symbol of a deep commitment between two individuals, must be pure in origin and consistent with high values. Otherwise, this symbol of commitment is tainted.

FJ: The people in this movement for fair and responsible jewelry who I call the "moral minority" are taking leadership not for marketing reasons, but because they are passionate about these issues. I would like to understanding more about your personal journey. Can you describe some of the seeds of this passion?
Eric: My moment of inspiration was watching news coverage of the horrible civil wars of West Africa and then glancing over at a glossy magazine advertisement for diamond jewelry. The contrast between the meaning of diamonds in many parts of Africa and in the West was stark and I was surprised at the lack of ethical origin alternatives in the marketplace. My co-founder Beth and I felt that it was very important to provide such an alternative and Brilliant Earth was born.

FJ: For our readership who may know nothing about your nonprofit initiative, can you please tell us something about it? (Please include something of its history, bringing us up to its current state.)
Eric: Brilliant Earth donates 5% of profits to support communities adversely affected by the diamond industry. While we have several initiatives, I am quite excited about a new project we recently began with the Canadian non-profit One Sky. One Sky works with the Conservation Society of Sierra Leone to rehabilitate devastated mining land in Sierra Leone. One of the goals is to restore land for agricultural use, which is the traditional livelihood of a majority of the people in Sierra Leone. The goal of the project is to address the environmental impacts of mining and to create self-sufficient and sustainable communities. By providing food as well as a source of income for locals, this project addresses two problems.
FJ: I know that you have received some press, but what about support from those selling diamonds in our industry?
Eric: We have received some support from members of the jewelry industry who share our vision, but we believe we have only begun to scratch the surface. Together, the industry can create enormous positive change for those communities who have been harmed by the jewelry trade. We expect to soon launch an initiative to invite many more members of the trade to join our efforts.

FJ: One of the things that I struggle with, personally, is how to understand that the same people in our industry who profited from blood diamonds are still selling diamonds today, simply having re-branded themselves as "ethical." You are one of the few who is actually addressing this issue with your initiative, which to me is a very constructive example of putting words into action. But I am interested in hearing how do you understand the rest of our industry which even today to a large degree ignores the entire issue of ethical sourcing. Do you have any personal insights around these issues for our readers?
Eric: For too long, the first instinct in the jewelry industry when confronted by abuses has been a defensive one. Right now is a real opportunity for us to pro-actively redefine our relationship with the communities from which we source the materials in our products. This should extend beyond whitewashing and doing the minimum to satisfy critical NGOs. We should not let the daunting challenges of reform dissuade us from taking real steps toward a more sustainable future for the industry.
Canadian diamonds are currently the only source of diamonds that can be tracked from the source to have eco-friendly and fair labor practices. We are excited to be one of the first to offer fair trade diamonds once they become more readily available.
FJ: Your social responsibility stance, I think, is a main added value to your product. Feeling the pulse of your business, can you give me any sense how much this translates to increased sales?
Eric: Because our social mission is the core of Brilliant Earth, it is the main driver for customers to come to us. It is true that today not all customers care about the origin of their jewelry but ever increasing numbers do care. This trend is not unique to jewelry but exists across a tremendous array of consumer products today.

FJ: Who is your customer? Describe him or her.
Eric: Brilliant Earth customers are extremely varied – we have had high school students shopping for pendants, young couples buying conflict free diamond engagement rings, and great-grandfathers buying 50th anniversary gifts. They share in common a belief that the jewelry products they buy should have a positive impact on the world.
FJ: Ken Gassman at the AGA Conclave talked about the internet being a zero sum game. In other words, from his perspective, increased web sales takes away from brick and mortar stores, and the jewelry market is only so big. I have been thinking, particularly among those customers that are searching for ethically sourced jewelry, that those of us involved in this movement may be actually expanding the market. Do you think your average customer would walk into a jewelry store? Do you have any sense of how this is playing out?

Eric: I definitely believe that an ethically sourced segment will help expand the market. Certainly last year there was a lot of fear about the impact of the Blood Diamond movie on sales and then a wave of relief when this didn't happen. But ethical issues in jewelry were not created by Hollywood and won't end with the movie either. Ethical origin will become an important differentiator for a certain segment of jewelry buyers, many of whom might not otherwise buy diamonds or precious gems. We have customers all the time who tell us that they would not have purchased a diamond had they not found a company with our social mission.

FJ: What advice would you give to a jewelry company that wishes to move more toward ethically sourced and social responsible jewelry?
Eric: I would say that there are easy steps you can take now – really try to understand your supply chains and the practices used in sourcing your materials. Many companies will find plenty of opportunities to make changes and improve their practices. And by showing your vendors that you care, you will encourage ever more suppliers to find more sustainable ways of conducting their business.
---