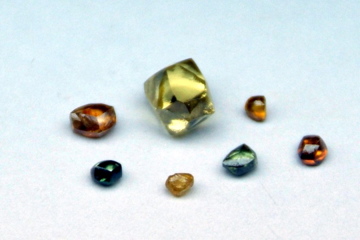 Greg Valerio
June 11th, 2015
Columbia Gemhouse
,
conflict diamonds
,
Ethics
,
Fairtrade Gold
,
Gemstones
,
Kamoka Pearls
,
Know Your Customer
,
Know Your Source
,
Nature's Geometry
,
Nineteen48
,
RubyFair
As many will know I am passionate about ethics. As a jeweller of over twenty years I have campaigned for greater levels of transparency and traceability in the chain of custody that feeds the jewellers bench and brand. Over these years I have sat in countless forums, government meetings, conferences, universities, design colleges, trade shows, jewellers groups and media events advocating for an open industry that speaks as much about sources as it does the technical and gemmological beauty and value of our jewellery. The sea change over the last 10 years in particular has been significant.
To characterise this progress you only have to look at the initiatives that have emerged since 2003. Fairtrade Gold and precious metals, Responsible Jewellery Council, CIBJO Code of Practice, OECD Due diligence's on sourcing from conflict regions, Jewellers Ethics Committee of Britain and Ireland (JEC-UK), Kimberley Process, Branded Trust Quality Assurance system and a number of fledgling processes in gemstones, pearls and diamonds that are busy bubbling away in the back ground. On the surface within the UK (the market I know the best) the most significant progress has been made by Fairtrade in gold, but this does not mean that the work stops there. It is the bubbling away in the back ground that excites me.
What this babbling brook is precipitating is a simple yet profound shift in the culture of our profession. Know your Customer (KYC) principles have been brandished as an industry discipline ever since the Conflict Diamond scandals of the turn of the millennium. KYC have value, yet in the hands of the jeweller they immediately turn our attention to the customer who I am selling my Ruby and Diamond engagement ring. KYC is an idea posited mainly by diamond mining companies aimed at ensuring the actor in their supply chain is reputable and cognizant of their legal and ethical responsibilities. This is a good thing, but has limited impact in my opinion as it is never consumer facing, locks the ethical discussion into an industry and government dialogue, and never allows it to break out into the consumer market discussion.
The jewellery supply chain, as any gemstone trader will tell you, is a pull economy. This means the it is the consumer demand for jewellery that keeps the gemstone and diamond trades afloat. Unlike gold, that has an electronics and investment value alongside it's jewellery value, gemstones more than any other product relies almost exclusively on customers buying gemstones. It is a pull economy from the consumer that flushes all the way up to the source, the artisanal miner and overwhelmingly small mining groups.
Know Your Source principles builds on these important truths. For the word ethical to thrive and have meaning it must have one ingredient, TRUTH. Truth is the foundation upon which any ethical claim stands. You cannot be ethical and hide or obfuscate the truth, whether wittingly or unwittingly. We talk a lot about product disclosure in gemstones and jewellery; inclusions, treatment, synthetics, Kimberley warranties etc. so disclosure is very much a part of the jewellery culture. So it is counter-intuitive that disclosure of sources or origin of denomination in gemstones is not so prevalent. Admittedly we are seeing this good practice creeping into diamonds with 'ForeverMark' 'CanadaMark' and 'Argyle Pink', and some gemstone suppliers like Gemfields, but it is not systemic, as only the richest mining companies can currently afford vertically integrated chain's of custody, with a few notable pioneering exceptions I will list below.
Know Your Source principles asks the question the other way round and places the onus on the purchaser of gemstones to address the transparency issues directly with the trader and/or dealer.
For those in the gemstone profession we all know the elephant in the room is smuggling. Whether undertaken by Indiana Jones look-a-likes or those that wear a suit and have membership of  gentleman's clubs, the middle men must embrace the principles of transparency if our trade is to retain its future value. But before I am crucified by the suits for bringing the profession into disrepute, we need to acknowledge that the deficit of disclosure is a systemic problem we are all guilty of. The gemstone trade has simply not invested any real energy, time and resource into open up its sources to scrutiny and beginning to flush out Pandora's Box with ethical codes of good practice in supply chain management. We need jewellers to be more vocal, trade associations to be more honest and progressive suppliers like Nineteen48, Columbia GemHouse, Fair Trade Gems, Nature's Geometry, RubyFair, Kamoka Pearls to name a few, become the suppliers of choice for conscientious jewellers and brands. If you don't use them, then do so.
Sourcing traceable stones is not easy and in the absence of verifiable schemes like Fairtrade in Gems and Diamonds, our job becomes more difficult. But the change has started. We are the change, so let's get on and make it happen.
Greg Valerio
---