Marc Choyt
July 6th, 2009
I am pleased to announce that Greg Valerio is joining this publication as a staff writer. Greg is a fair trade activist, public speaker and journalist. He writes a regular ethics column for the UK's National Association of Goldsmiths jeweler's publication The Jeweller. His articles, initiatives, and interviews have previously appeared here on several occasions.)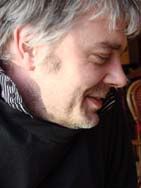 Greg is a social entrepreneur, and the founder of Cred Jewellery, the leading fair trade jeweler in the UK, located in Chichester, West Sussex. He has established an ethical platform based on transparent sourcing, and a bullion supply house for Oro Verde gold, recycled silver and traceable gemstones and diamonds.(www.credsources.com)
As one the founding board members of the Alliance of Responsible Mining (ARM), Greg is also well known in the international fair trade community for his groundbreaking work on behalf of small scale miners throughout the world. He is involved with small-scale miners as well as artisanal jewelry craftsmen in South America, Africa and Asia. His most recent efforts are in Greenland, where he has worked tirelessly on behalf of Inuit ruby miners.
Greg's deep knowledge will enable us to continue to provide the public and the jewelry trade with information that makes this website the internet's most comprehensive resource for fair trade jewelry issues.
~ Marc Choyt, Publisher, Fairjewelry.org.
---